Sitting on the couch next to us right now is a dog-eared copy of Kathleen's book — "Marriages & Miscarriages: One Woman's Personal Experience" — it has been used to take promotional pictures or to find quick sections of texts to Tweet about or post on facebook. After more than a year of work by Kathleen in 2010 to put together the content of her short memoir we were ready to publish in January of 2011. 
As an Independent app developer for the iPhone Andrew thought it would be a good idea to share a little of our experience for other Independent authors and for those who are just interested in the process. So take a ride with us down the exciting and fun path of self-publishing in the 21st century.
The Dream:
As a couple we have experienced 3 miscarriages in our marriage. Kathleen had been asked before about how it felt, and how people reacted during the process. We both felt it would be beneficial to share this information with others— especially for those with the same Christian worldview. Kathleen felt the best way would be to write a book. So in early 2010 she began to write down her thoughts and memories about what happened. By the end of the year she had most of the book complete. We re-read, edited, shared with friends for editing advice, and finally decided the text content was ready to go.
You write a book for one of two reasons — to share your story or to make money. Our goal was to share our story with as many people as possible. The book has a narrow market, and given it's subject matter it was unclear how many copies would sell. We will talk more about this when it comes to pricing.
The Design:
Once the content was done we started to look at how books are layed out. We thought about where the chapter goes on a page, what fonts to use, how to design the cover, and if there should be images in the book.  We designed the cover ourselves, with Andrew's photoshop skills, and Kathleen's persitance for a layout exactly like she wanted. We looked through a variety of public domain images to come up with the right one. We also had a family photo-shoot around this time, and used a portrait of Kathleen for the back cover.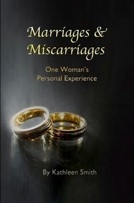 We looked through clipart online, and eventually ended up in a Barnes & Nobles looking at their public domain clipart books to find images to use inside the book. In the print copy each chapter has a line drawing that relates to the topic of that chapter on the facing page of the chapter start. The images are also carried over, in some forms, to the e-book editions.
Once the design was done it was time to go about choosing the correct publishing mediums.   
Publishing Mediums: Print
With the advent of Just-In-Time printing in the last few years self-publishing a book doesn't need to involve a large initial investment. In fact, depending on what you do, no initial investment is required. We chose
Lulu.com
for handling the publishing aspect. They provide you with a nice Microsoft Word template and a variety of easy calculators and tools to determine exactly what you want your book to look like. Because we wanted the book to have an ISBN and be available for order in any bookstore we did opt for their global marketing package, at a cost of about $80. 
Publishing Mediums: E-Book
In today's world, the real path to people and reading for independent authors is the e-book path. Amazon's Kindle is selling like mad, and Barnes & Noble Nook isn't far behind. Other devices are also available, although none have quite the same marketshare. The big advantage to publishing an e-book — No Overhead. In the case of
Kindle
and
Nook
you simply create an account on their publishers website, upload your word document, and you are good to go. To get on the Apple iBook store and a few other stores it is a little more complex (
Smashwords
helps with this, but it is still a bit complex).
Another advantage to E-Book publishing is an almost immediate gratification. Your books are available within a few days (Sometimes faster) and you can get sales feedback almost immediately. Sales of Paperbacks through normal chains can take 4-6 weeks to be reported on Lulu.com. 
Tracking the Progress
Every day Kathleen can login and "do the rounds." Amazon Kindle's Publisher site (KDP), Barnes & Noble's Nook Publisher site (PubIt), Amazon's Author Central (great free services to track paperback sales!), and Lulu.com. 
Marketing in a Social World
Twitter
and
Facebook
are the first places Kathleen started. Twitter has probably been the most successful. By building a network of similar minded people, authors, and speakers in the Christian book world on Twitter the book has been put in front of many people who are interested in the topic. 
We also mailed a few promotional copies out and promo-cards to local Pastors (and one not so-local). We are still considering how to pursue this line of marketing.
Sales Reach 100!
In late November, 10 months after the book was made available, it hit 100 copies sold. Now, at a year, it is at 117. This doesn't include a handful of copies she has given away to friends and relatives and a few copies for promotional purposes.
Who Bought the Book?
It's unclear exactly how many copies the average independent author sells — some sources online claim it is about 100, and most of those are to family and friends. 100 books over the lifetime of the book being available, and Kathleen reached 100 in 10 months. The reality is we only know about 20 of the people who purchased copies. The other 80 are from all over the United States, and even a few from outside. In the back of the book Kathleen asks readers to e-mail her if they have questions or just need someone to talk to about this important issue. She has received a number of e-mails and has been able to communicate with woman around the world.
It seems likely that the book will continue to sell 5-10 copies a month into the foreseeable future. It's available for order in bookstores, and on Amazon. 
It's going to be an interesting future to watch. We will be back in a year (or maybe sooner) to share some more numbers.
I hope it was encouraging to other authors (and potential authors) to see how the process works, and find out a little more about how the books come in. Our goal isn't to sell a lot of books and make a lot of money, but rather to share a story with as many people as possible in a form that works well (a book). 
The Future
There are others who are prolific authors who put out multiple e-books a year. It would be great to hear about their success, in a similar numbers post.